Facing Criminal Charges? We Can Help!
Nearly 100 Collective Years' Experience Successfully Winning Criminal Cases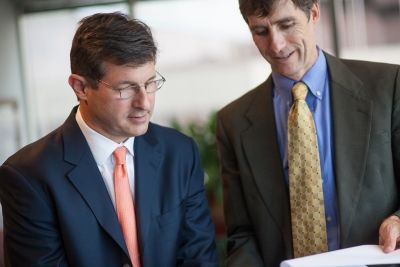 Nathans & Ripke LLP is a Baltimore-based litigation firm serving individuals and corporations in criminal and civil litigation matters. Our firm's attorneys have nearly 100 years of combined trial and appellate experience, allowing us to provide skilled, strategic representation in even the most complex matters.
To learn more about our legal services and practice areas, please read below or contact our law firm at (410) 783-0272 to schedule an appointment. We serve clients throughout the Maryland and Washington, D.C. region, and in federal criminal cases throughout the country.
Why Hire a Criminal Defense Attorney?
If you're facing criminal charges, it's important to secure experienced legal representation. A criminal defense attorney can help protect your rights and mount a strong defense against the prosecution.
Here are some of the common reasons why people hire a criminal defense lawyer after being arrested:
They understand the complexities of the criminal justice system - Navigating through the criminal justice system can be overwhelming and intimidating for anyone who isn't familiar with its intricacies. A qualified criminal defense attorney has extensive experience in dealing with local courts, prosecutors, and law enforcement officials, which is invaluable when fighting criminal charges.
They will fight aggressively to defend your rights - Criminal defense attorneys are trained to challenge even seemingly airtight cases presented by the prosecution. They will analyze evidence for inconsistencies, present mitigating factors in your defense, and argue for the best possible outcome given the circumstances.
They are familiar with plea bargaining - When a case goes to trial, it can be difficult to predict its outcome. A criminal defense lawyer can negotiate with prosecutors on your behalf and work towards obtaining an acceptable plea deal that can reduce charges or penalties associated with them.
By hiring a skilled criminal defense attorney after being arrested, you'll have access to legal counsel who has the knowledge and resources needed to advocate for your rights throughout the entire process. Do not hesitate to let our firm fight for you inside and outside the courtroom from start to finish.
Handling Serious Felonies & Misdemeanors
The Baltimore criminal defense lawyers at Nathans & Ripke LLP have represented clients in state and federal felonies and misdemeanors, including complicated white collar criminal charges and serious Maryland state court cases. Our representation has led to numerous clients not facing charges, acquittals, dismissed cases, reduced penalties, and numerous convictions being overturned as the result of our appellate and post-conviction advocacy.
Our firm provides thoughtful judgment and vigorous representation at all phases of a criminal case. Whether you received a subpoena, are under investigation for a crime, are facing trial, have already been convicted, and wish to explore quality sentencing representation or the option of appealing a verdict, we provide comprehensive support to protect your interests.
For more information regarding our practice, contact the Law Office of Nathans & Ripke LLP online or by calling (410) 783-0272.